Our Mission: The Mattabeseck Audubon Society, a chapter of the National Audubon Society, is committed to environmental leadership and education for the benefit of the community and the earth's biodiversity.

deKoven House, 27 Washington Street, Middletown, Connecticut 06457
What's New at Mattabeseck Audubon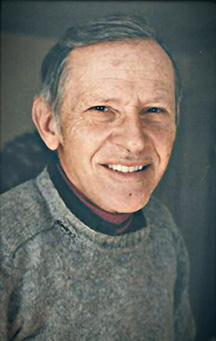 In Memoriam
John Maynard, founding member and past president of Mattabeseck Audubon, passed away on December 10, 2014. John was a bit absent-minded. He'd sometimes take the trash to work instead of his lunch, or he might try to fill his gas tank from the vacuum nozzle, but when it came to birding, his quiet patience and persistence paid off. He was first to identify red-headed woodpeckers and clay-colored sparrows in our area.
When the property behind his house became the Middletown Nature Garden, he set out to identify all the trees, finding many less common ones.
Having grown up on the south shore of Long Island, Hammonasset was one of his favorite places. Birders got to know him and would look forward to his log entries to know which birds were being seen. John found the humor in life and was an example of a life well lived.
Alberta Mirer
In Memoriam J. M.
If a man may be damned with feint praise,
Can he then be honored with anonymity?
When he was born, the Atlantic yawned
And mechanically probed the rack line
As it had for millennia.
He survived to adulthood, achieved a position,
Married and begat.
As happens to everybody in their own peculiar way,
He aged, became infirm, and in the end
He did what was most sensible and natural:
He died. That's all...
But in that all lay the inner Man.
"To be or not to be?"
Not Hamlet,
He developed his actions decisively;
He formed his relationships decidedly;
And he trusted enlightenment unequivocally.
Over time, his gentle voice lowered an octave,
His words sounding like a sail
That luffs in a dying wind,
Barely a zephyr; yet his insights
Blasted away like a tempest.
His humor rolled like the surprising
Rogue waves of the open sea.
Avian life he loved;
Though, as his years accumulated,
The phrases of those feathered philosophers
And musicians
Listlessly penetrated his ears,
Their curiosities never fled from his eyes.
Astute appraisal of the human condition
Held him upright on his steed in the lists;
Fairness guided his lance to the mark.
One who softly whispers the truth
Before he dies,
Is heard more thunderously than the one
Who is forever shouting lies.
L.C.
Mattabeseck Audubon Needs Your Help
We need you. There is always a need for new volunteer leaders in any organization, but the past couple of years have brought losses to our board that have created even greater challenges. Joanne Luppi's death and Marcy Klattenberg's retirement to the Cape have left big holes. Now George Zepko, who prepares the Wingbeat for mailing, is retiring.
It is very important to our organization that you receive the newsletter. The job requires only a few hours of your time 4 times a year – in Jan., Apr., Sept., and Oct. Labels are printed from the National Audubon web site, brought to a board meeting, where the board applies them to the Wingbeat. They are counted for the postage tabulation. Then, they are taken to the Middletown Post Office for mailing, where they are turned over to the staff in charge of bulk mailing.
Mattabeseck would also like to add a presence to social media. While there is a web page, there is no Facebook, Twitter, or other contacts with the public. Notifying others of our activities would let the world have a greater opportunity to interact with nature and gain a greater understanding of the world around us.
Please contact us (# / e-mail / slow mail) and let us know if you'd like to help.
Download Winter/Spring 2015 Wingbeat
The Winter/Spring issue of Wingbeat is now available for download. This .pdf file can be read on iPad, computer, and most tablets.
January 17, 2015
Eagles at Machimoodus Park

February 13–16, 2015
Great Backyard Bird Count

Mach 14, 2015
"Let's Go A-Ducking"

March 29, 2015
Wangunk Meadows

April 18, 2015
Wildflower Walk

May 23, 2015
Migrants of Machimoodus State Park

Wingbeat Deadline for Next Issue
The deadline for items to be included in the Spring/Summer Issue is Thursday, March 25, 2015. We expect subscribers to receive their copies about April. 20. Please send items to Pat Rasch, 24 Elm Road, Cromwell, CT 06416, or email to <mattabeseck@mac.com>. Please add "WINGBEAT" to the message's subject line.
Board of Directors — Next Meeting
The Board of Directors will meet at 7:30 p.m. on the third Wednesday of each month at deKoven House, 27 Washington Street, Middletown.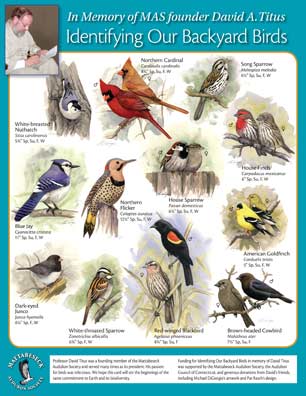 David Titus Memorial
Bird Card—
heavy-duty laminated
plastic—only $3.00!
The David Titus Memorial Bird Card is now available for a $3 donation. We will have them at MAS activities or request by email to mattabeseck@mac.com. Many thanks to Pat Rasch for putting it all together and to wildlife illustrator, Mike DiGiorgio, for his beautiful illustrations, many of which were painted specifically for this bird card. The card is a very inexpensive way to own some of the best bird art you'll ever see. It is extra heavy-duty, all-plastic laminate, printed in full color on both sides. Twenty-four birds are identified by their common name and Latin name, along with the length of the bird and the seasons that they are usually seen in our area. In species that have visual differences between the sexes, both sexes are portrayed.
If you find a baby bird...
If you find a baby bird or other animal, it's best to leave it alone. Chances are the parent is nearby and will take care of the baby when you leave the area. If not or you have some other wildlife problem, contact the CT Wildlife Rehabilitators Association at http://www.cwrawildlife.org/ where you can find a rehabilitator in your area or someone to address your problem.