Our Mission: The Mattabeseck Audubon Society, a chapter of the National Audubon Society, is committed to environmental leadership and education for the benefit of the community and the earth's biodiversity.

deKoven House, 27 Washington Street, Middletown, Connecticut 06457
What's New at Mattabeseck Audubon
Download Winter/Spring 2016 Wingbeat
The Fall/Winter issue of Wingbeat is now available for download. This .pdf file can be read on iPad, computer, and most tablets.
January 9 (Saturday 8:00 a.m.)
Eagles at Machimoodus Park
February 12-15 (Friday - Monday)
Great Backyard Bird Count
March 19 (Saturday 8 a.m.)
Let's Go A-Ducking
April 23 (Saturday 8 a.m.)
Wildflower Walk

Members' Corner
from Alberta Mirer, Board Member
How Birds Weather the Winter
Like humans, birds are warm-blooded, yet they have higher metabolic rates and therefore, higher body temperatures— 105 degrees F on average. Survival depends on both physical and behavioral adaptations when the mercury dips.
Birds' feathers provide remarkable insulation, and many species grow and extra layer of down as part of a late-fall molt. Feathers are aligned to create tiny air pockets, and their outer layer is coated with waterproofing oil produced by a gland at the tail's base and distributed when a bird preens. Also, legs and feet are covered with scales that minimize heat loss.
In fall when food is plentiful birds gorge to build up insulating fat. Some species switch to higher-fat diets in winter. On sunny days, birds take advantage of solar sun to allow their largest surface areas to soak up the rays. Under clouds, they may shiver which burns calories but increases body temperature.
Flocking birds, such as chickadees and titmice manage cold northern winters by roosting in groups in tight cavities. The most extreme survival strategy is torpor: a state of lower metabolism and body temperature that conserves energy. Hummingbirds regularly undergo torpor, while other species including chickadees, do so in extreme conditions.
Helping Birds to Stay Warm
Provide Quality Food: Select seeds, suet, nuts and other items high in fat and calories.
Keep Feeders Full: After a cold night, birds need ready access to meals to replenish energy reserves.
Leave Flower Heads and Stalks: Birds feed on seeds and insects that dried flower and stems provide.
Offer Shelter: Plant evergreen shrubs and trees, build a brush pile or add a roost box to your yard.
Provide Liquid Water: Birds can melt snow to drink, but it uses energy needed to maintain body temperature.
For more wildlife-gardening tips, visit www.nwf.org/nwfgarden
National Wildlife December / January 2016
---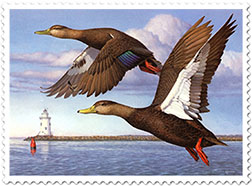 Submitted by Larry Cyrulik, Board Member
Buy Duck Stamps

Remember to buy Connecticut Duck Stamps on the first of the year. Duck stamps generate funds that go directly towards the conservation of wetlands, which helps all species, not only ducks. Go to www.ct.gov/deep to find out the various ways in which to buy stamps. Stamps may also be bought wherever hunting and fishing licenses are sold.
---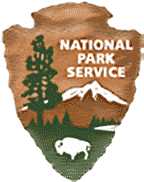 Submitted by Mattabeseck President, Alison Guinness
100th Anniversary of the National Park Service

By the Act of March 1, 1872, Congress established Yellowstone National Park in the Territories of Montana and Wyoming "as a public park or pleasuring-ground for the benefit and enjoyment of the people" and placed it "under exclusive control of the Secretary of the Interior." The founding of Yellowstone National Park began a worldwide national park movement.
In the years following the establishment of Yellowstone, the United States authorized additional national parks and monuments. These, also, were administered by the Department of the Interior, while other monuments and natural and historical areas were administered by the War Department and the Forest Service of the Department of Agriculture. No single agency provided unified management of the varied federal parklands.
On August 25, 1916, President Woodrow Wilson signed the act creating the National Park Service, a new federal bureau in the Department of the Interior responsible for protecting the 35 national parks and monuments then managed by the department and those yet to be established. This "Organic Act" states that "the Service thus established shall promote and regulate the use of the Federal areas known as national parks, monuments and reservations…by such means and measures as conform to the fundamental purpose of the said parks, monuments and reservations, which purpose is to conserve the scenery and the natural and historic objects and the wild life therein and to provide for the enjoyment of the same in such manner and by such means as will leave them unimpaired for the enjoyment of future generations."
Stephen T. Mather was appointed the first NPS director in May 1917. Although Mather was born in California and had his business there, his family homestead and burial site is a National Historic Landmark in Darien.
An Executive Order in 1933 transferred 56 national monuments and military sites from the Forest Service and the War Department to the National Park Service. This action was a major step in the development of today's truly national system of parks—a system that includes areas of historical as well as scenic and scientific importance.
While there is only one National Park in Connecticut, the Weir Farm in Ridgefield and Wilton, there are others within driving distance. Celebrate this important milestone, by visiting one of over 400 parks in the US. http://www.nps.gov/aboutus/history.htm
---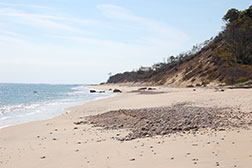 MAS to Sponsor Visit to Plum Island in 2016

Mattabeseck Audubon will be sponsoring a trip to Plum Island, located just off the eastern tip of Long Island. The island has been the site of military installations from the earliest days of the country and a USDA research area since the 1950s. Congress voted to relocate the research facility and sell the island.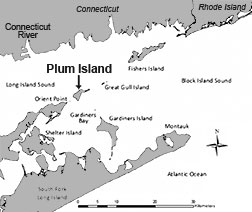 Today, the Connecticut Fund for the Environment is leading a massive effort to preserve the whole island. Visits require a security check of all attendees and US citizenship.
MAS hopes to offer the trip in 2016. The trip is free and leaves from Old Saybrook. If interested in participating, please contact Alison Guinness at 873-9304 or wjguinness@snet.net.
Photo Alison Guinness; map NY Natural Heritage Program

---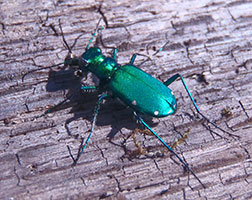 from member, Pat Rasch
Cicindela Sexguttata—
The Six-Spotted Tiger Beetle
Sometimes we 're lucky, and we spot one of these beauties in the woods. This one posed for us on a past Wildflower Walk. Our .4" to .6" northern U.S. species of iridescent tiger beetle has 6 spots along the edges of its wings (though some specimens may lack spots.) Tiger beetles are notoriously fast, and they bite, so catching one is not easy. If caught, the beetle is reported to secrete a volatile chemical from its abdomen.

Helen Carlson Sanctuary: An Update

Visitors may have encountered a bewildering array of obstacles to their edification of the sanctuary. First, due to the fluctuating water level of the bog, courtesy of the resident beavers, the viewing platform has been left unaccessible most of the time.

Also, vandals have attacked the platform like hoboes on a hot dog, kicking-out boards, leaving trash, and decorating the wood work with hatchet blows. A non-descript, edgy, and unsafe cobbling of wooden skids and debris has been gifted to us leading out in a jumble of war-like trash along the berm.
Also, a large tree has fallen by the shed and main entrance to the trail at the westerly end of the sanctuary.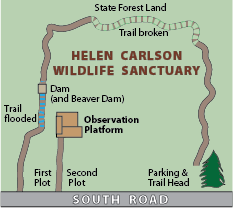 What are the plans? The board of directors is receiving quotes from contractors with regards to bridging the gap to the viewing platform. A floating dock system that could adapt to fluctuating water levels is envisioned. The mess of wooden skids could then be removed. Any remaining dips in the berm could then be covered with well-constructed walkways.
A tree removal contractor has been enlisted to deal with the downed behemoth when his schedule permits.
As the saying goes: all things in due time.

L.C.
Wingbeat Deadline for Next Issue
The deadline for items to be included in the Spring/Summer Issue is April 26, 2016. We expect subscribers to receive their copies about January 20. Please send items to Pat Rasch, 24 Elm Road, Cromwell, CT 06416, or email to <mattabeseck@mac.com>. Please add "WINGBEAT" to the message's subject line.
Board of Directors — Next Meeting
The Board of Directors will meet at 7:30 p.m. on the third Wednesday of each month at deKoven House, 27 Washington Street, Middletown.
Mattabeseck Audubon Needs Your Help
We need you. There is always a need for new volunteer leaders in any organization, but the past couple of years have brought losses to our board that have created even greater challenges. Joanne Luppi's death and Marcy Klattenberg's retirement to the Cape have left big holes.
We're always looking for new board members.
Please contact us (phone / e-mail / slow mail) and let us know if you'd like to help.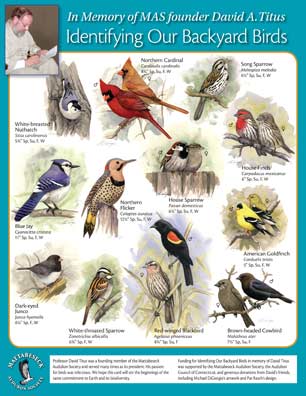 David Titus Memorial
Bird Card—
heavy-duty laminated
plastic—only $3.00!
The David Titus Memorial Bird Card is now available for a $3 donation. We will have them at MAS activities or request by email to mattabeseck@mac.com. Many thanks to Pat Rasch for putting it all together and to wildlife illustrator, Mike DiGiorgio, for his beautiful illustrations, many of which were painted specifically for this bird card. The card is a very inexpensive way to own some of the best bird art you'll ever see. It is extra heavy-duty, all-plastic laminate, printed in full color on both sides. Twenty-four birds are identified by their common name and Latin name, along with the length of the bird and the seasons that they are usually seen in our area. In species that have visual differences between the sexes, both sexes are portrayed.
If you find a baby bird...
If you find a baby bird or other animal, it's best to leave it alone. Chances are the parent is nearby and will take care of the baby when you leave the area. If not or you have some other wildlife problem, contact the CT Wildlife Rehabilitators Association at http://www.cwrawildlife.org/ where you can find a rehabilitator in your area or someone to address your problem.