Our Mission: The Mattabeseck Audubon Society, a chapter of the National Audubon Society, is committed to environmental leadership and education for the benefit of the community and the earth's biodiversity.

deKoven House, 27 Washington Street, Middletown, Connecticut 06457
What's New at Mattabeseck Audubon
Download Summer/Fall 2016 Wingbeat
The Summer/Fall issue of Wingbeat is now available for download. This .pdf file can be read on iPad, computer, and most tablets.
October 8 (Saturday—8:00 a.m.)
Sparrow Crawl

---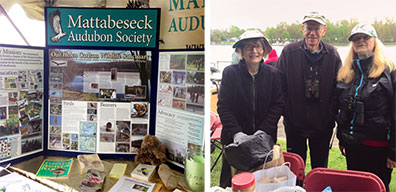 Mattabeseck at Feet to the Fire Event

Mattabeseck participated in the Feet to the Fire (a major undertaking of Wesleyan University to examine critical environmental issues through multiple lenses, from science to art) Riverfront Encounter on May 7 at Harbor Park at the Connecticut River in Middletown. The festival included exhibits, music, Plein Air painters, and lots of fun activities for kids, in spite of the drizzly rain.
MAS showed off new display panels that feature our Carlson Sanctuary and its beavers and bird species, as well as our past programs, past field trips, and our history of advocacy.
At the MAS table, volunteers helped kids make peanut butter bird feeders. Kids also learned about birds through bird-coloring sheets.

---
Members' Corner
from Alberta Mirer, Board Member
The Importance of Native Bees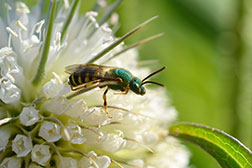 Many of North America's more than 4,000 native bee species are declining, including more than a quarter of native bumble bees. Creating a pollinator habitat doesn't just help the bees; it also helps fruits and vegetables. Native bees are more effective pollinators than non-native honey bees. Honey bees pack pollen into tidy baskets on their legs, while most native bees are like little flying dust mops. Pollen clings to hairs on their bodies and easily brushes off, so flowers get pollinated more completely. Honey bees will visit a single fruit tree methodically, going from flower to flower, whereas native orchard bees flit from tree to tree, resulting in the cross-pollination that some trees need to set fruit. Bumble bees also do a nifty trick called "buzz pollination". They vibrate their flight muscles at the exact frequency needed to shake pollen loose from anthers.
When researchers at Michigan State planted wildflowers around high-bush blueberry fields to attract native pollinators, they saw the wild bee population double within two years and blueberry yields increase up to 20 percent.
Unlike the familiar honey bee, more than 95% of native bees live alone in small nests carved into soil or wood. Native bees tend to be tiny, do not have queens or produce honey and rarely sting. Bees pollinate more than a third of all foods and beverages humans consume. Native bees contribute at least $3 billion a year to the farm economy. If domestic honey bees continue to decline, native bees may play an even more important role in pollination.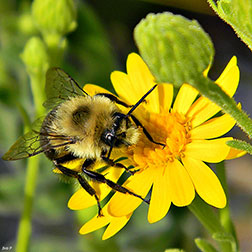 How you can help: In your garden choose locally native perennials of yellow, blue or purple flowers that bloom at different times. Plant herbs, such as basil, cilantro, thyme, oregano and borage in your vegetable beds and let some go to flower for the bees. Bees drink water as well as nectar, so a water feature would be helpful. Reduce mulching, mowing and tilling that may destroy nests or future nesting sites. Avoid using insecticides (which kill bees directly) and herbicides (which kill the plants bees depend on). Steer clear of systemic insecticides. Help scientists learn more about the insects by reporting bees you see in your garden to the citizen-science project www.BumbleBeeWatch.org.
National Wildlife, April-May 2016 www.NWF.org
The Importance of All Pollinators
More than a third of all worldwide crops and 3/4s of all flowering plants depend on pollinators like bees, butterflies and even flies to reproduce. The National Pollinator Garden Network was founded in 2014 to help conserve threatened populations through a nationwide campaign called the Million Pollinator Garden Challenge.
You can help by setting aside space, even a window box will do, for native nectar-rich plants and following sustainable practices. For a month-by-month list of native plants in your region go to www.pollinator.org/guides.
Skip double-flowered hybrids – the meager nectar they offer is hard to reach.
A range of colors, shapes, and scents will attract the greatest diversity.
Delay fall chores until spring – larvae overwinter in leaves, hollow plant stems and branches.
Better Homes and Gardens April 2016

from Alison Guinness, Mattabeseck President
Third Conservation Anniversary
In past Wingbeats, we let you know about the beginnings of Connecticut's conservation efforts 125 years ago and the nation's first efforts at creating national parks 100 years ago. This year also marks the 100th anniversary of the first international conservation treaty, the Migratory Bird Treaty between the United States and Canada. Twenty years later, with the addition of Mexico, this conservation effort became hemisphere wide. This was among the first environmental laws to recognize that wildlife and the environment did not recognize manmade political boundaries.

As the daughter of a Special Agent for the U.S. Fish and Wildlife Service, I grew up on this law. As children, my sister, brother, and I helped my father in his efforts to carry out the activities of his job. His first assignment was in southern New York, where my father told that the urban/suburban Canada goose came into being. He always felt that these geese escaped from the Bronx Zoo where they lived for a while with clipped wings to keep them from flying away. Once they molted, they left but having become acclimated to the lush lawns and fairways of Westchester golf courses, they stayed and stayed. As their numbers grew, they became nuisances. As migratory birds, they were protected by the Migratory Bird Treaty, which meant that they became my father's problem. He would take us with him on goose roundups.
One time in particular would have made a great You Tube video. The geese were in a neighborhood with a lake with an island in the middle. My sister and I were posted around the edge of the lake while my father and brother were in the canoe chasing the geese back and forth around the island. It was surely comical. I can't remember if we actually caught any. If we did, they were loaded into the back of the car and taken home, caged in the backyard until my father made arrangements to send them to a wildlife refuge somewhere in the western part of the country. This process ended as the geese became too numerous. Not to mention the fact that the backyard grass disappeared.
We also helped my father during banding season. Our "conservation job" was to shinny up conifers, maneuvering through all those close branches, to Mourning dove nests, carefully hand down the baby birds to my father, who would band them and send them back up to us to return to the nest. When we moved from New York to Connecticut, my father's next assignment, we no longer banded doves. Our banding jobs moved farther afield.
One summer, we all went to Maine where my father set up traps to catch ducks, mostly on the Androscoggin River. Each day, one of us would accompany my father in the canoe to check the traps and band and release the catch. At that time, the health of the Androscoggin was highly compromised with pollutants from the paper making industry. Huge bubbles of methane would gurgle up from the bottom as we paddled along. I mused out loud to my father whether we should even be there.
Several times, my brother had the great fortune to go on banding trips to Canada, way up in the far reaches of Quebec. Once we all grew up, our participation in my father's job ended, but we had a strong foundation in supporting conservation and the Migratory Bird Treaty.
Exhibits to Visit this Summer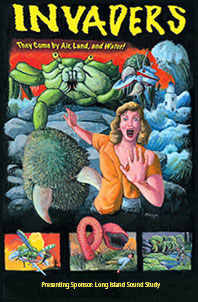 The Connecticut River Museum's latest exhibit is Invaders: They come by Air, Land, and Water! The exhibit features artwork by Michael DiGiorgio, a longtime friend of Mattabeseck who created all the beautiful birds on our card Identifying Our Backyard Birds. Mike's paintings are reminiscent of the monster movies of the 1950s and 1960s, including frightened people and large menacing invaders, such as Oriental bittersweet, Water chestnut, and Didymo, also called rock snot! The show runs till Oct. 10. The museum is located on the Connecticut River in Essex. http://www.ctrivermuseum.org/calendarevent/invaders/
Also at The Connecticut River Museum If you visit on a Thursday, you may want to stay for a free concert. The Connecticut River Museum once again offers Thursdays on the Dock. This series of free riverside concerts on Thursday nights runs throughout late summer, and features a different artist every week. Guests are welcomed to bring lawn chairs or blankets for seating, as well as a picnic dinner. A cash bar serving beer and wine will be available, and Porky Pete's BBQ will be onsite with hot food for sale.


For a different museum experience, you may want to visit the Yale Peabody Museum's 150th Anniversary celebration exhibit Treasures of the Peabody: 150 Years of Exploration & Discovery. Just a few of the highlights include the first T. rex fossil ever discovered; a small liverwort specimen collected by Charles Darwin during his voyage on the HMS Beagle; a rifle belonging to Buffalo Bill, one of O.C. Marsh's guides during his fossil expeditions to the American West; and a full-size Velociraptor model from the Jurassic Park film series! On view through January 8, 2017 in New Haven at 170 Whitney Avenue. http://peabody.yale.edu/exhibits/treasures-peabody-150-years-exploration-discovery
Also at the Peabody: Come see a display of one of Yale University's most iconic objects: the Double Elephant folio of John James Audubon's The Birds of America. On loan from Yale's Beinecke Rare Book and Manuscript Library, two of the Beinecke's four volumes will be on view on the Museum's third floor, adjacent to Birds of Connecticut. Born in what is now Haiti, John James Audubon (1785–1851) was the son of a French planter and a Creole woman. He moved to the United States in 1803 and for more than 10 years drew and painted American birds, chiefly from life. The 435 illustrated plates in The Birds of America—showing a total of 1,055 birds—were engraved and hand-colored. Published by subscription between 1827 and 1838, 135 of the 175 to 200 complete sets of plates still exist today.
Wingbeat Deadline for Next Issue
The deadline for items to be included in the Fall/Winter Issue is September 26, 2016. We expect subscribers to receive their copies about October 20. Please send items to Pat Rasch, 24 Elm Road, Cromwell, CT 06416, or email to <mattabeseck@mac.com>. Please add "WINGBEAT" to the message's subject line.
Board of Directors — Next Meeting
The Board of Directors will meet at 7:30 p.m. on the third Wednesday of each month at deKoven House, 27 Washington Street, Middletown.
Mattabeseck Audubon Needs Your Help
We need you. There is always a need for new volunteer leaders in any organization, but the past couple of years have brought losses to our board that have created even greater challenges. Joanne Luppi's death and Marcy Klattenberg's retirement to the Cape have left big holes.
We're always looking for new board members.
Please contact us (phone / e-mail / slow mail) and let us know if you'd like to help.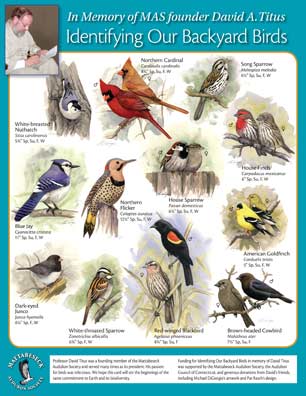 David Titus Memorial
Bird Card—
heavy-duty laminated
plastic—only $3.00!
The David Titus Memorial Bird Card is now available for a $3 donation. We will have them at MAS activities or request by email to mattabeseck@mac.com. Many thanks to Pat Rasch for putting it all together and to wildlife illustrator, Mike DiGiorgio, for his beautiful illustrations, many of which were painted specifically for this bird card. The card is a very inexpensive way to own some of the best bird art you'll ever see. It is extra heavy-duty, all-plastic laminate, printed in full color on both sides. Twenty-four birds are identified by their common name and Latin name, along with the length of the bird and the seasons that they are usually seen in our area. In species that have visual differences between the sexes, both sexes are portrayed.
If you find a baby bird...
If you find a baby bird or other animal, it's best to leave it alone. Chances are the parent is nearby and will take care of the baby when you leave the area. If not or you have some other wildlife problem, contact the CT Wildlife Rehabilitators Association at http://www.cwrawildlife.org/ where you can find a rehabilitator in your area or someone to address your problem.