Our Mission: The Mattabeseck Audubon Society, a chapter of the National Audubon Society, is committed to environmental leadership and education for the benefit of the community and the earth's biodiversity.

deKoven House, 27 Washington Street, Middletown, Connecticut 06457
What's New at Mattabeseck Audubon
ANNOUNCEMENTS:
MAS Annual Meeting will have a vote on changes to the by-laws. Meeting is scheduled for May 20, 2015, at 7:30 p.m. in deKoven House. Revised chapter by-Laws are in .pdf format at this link: MAS By-laws
* * * * *
Please support Middletown's acquisition of the Pierce property.
Earth Day: 45th Anniversary
Wednesday, April 22, 2015
Volunteer. Go to a festival. Install solar panels on your roof. Organize an event in your community. Change a habit. Help launch a community garden. Communicate your priorities to your elected representatives. Do something nice for the Earth, have fun, and make a difference.
Mattabeseck Audubon Needs Your Help
We need you. There is always a need for new volunteer leaders in any organization, but the past couple of years have brought losses to our board that have created even greater challenges. Joanne Luppi's death and Marcy Klattenberg's retirement to the Cape have left big holes. Now George Zepko, who prepares the Wingbeat for mailing, is retiring.
It is very important to our organization that you receive the newsletter. The job requires only a few hours of your time 4 times a year – in Jan., Apr., Sept., and Oct. Labels are printed from the National Audubon web site, brought to a board meeting, where the board applies them to the Wingbeat. They are counted for the postage tabulation. Then, they are taken to the Middletown Post Office for mailing, where they are turned over to the staff in charge of bulk mailing.
We're always looking for new board members as well.
Please contact us (# / e-mail / slow mail) and let us know if you'd like to help.
We're not just for the birds
Starting in 2015, fishing and hunting licenses and permits have been reduced by 50% for 16 and 17 year-old Connecticut residents. Also, this summer anyone can obtain a free one-day fishing license pass for Sun June 21st and Sat Aug 15th when anyone can fish in Conn without having to possess a fishing license. All rules and regulations remain in effect. To obtain the pass and licenses use the DEEP online licensing system, (www.ct.gov/deep/sportsmenlicensing)
Download Spring/Summer 2015 Wingbeat
The Spring/Summer issue of Wingbeat is now available for download. This .pdf file can be read on iPad, computer, and most tablets.
March 29, 2015
Wangunk Meadows

April 18, 2015
Wildflower Walk

May 2, 2015
David Titus Memorial Warbler Walk
May 23, 2015
Migrants of Machimoodus State Park
June 6, 2015
Canoe/Kayak Trip Selden Island

Members' Corner
from Alberta Mirer, Board Member
Help needed to protect shorebird populations in Connecticut
Connecticut beaches provide important nesting habitat for the threatened Piping Plover, Least Tern, and American Oystercatcher. These species arrive here from late March through early May and lay camouflaged eggs in small scrapes in the sand. Disturbance by beachgoers can have a real impact on their breeding success. Eggs and chicks may get stepped on, or adult birds may leave the young unattended. Dogs, even when leashed, will cause the birds to take even longer to return to nests. Trash attracts predators, reducing the survival of eggs and chicks.
To become a USFWS Piping Plover/ Least Tern volunteer monitor, contact the Audubon Alliance for Coastal Waterbirds at ctwaterbirds@gmail.com. More information about shore bird monitoring program is available on the Audubon Alliance website at www.ctwaterbirds.blogspot.com

Wingbeat Deadline for Next Issue
The deadline for items to be included in the Summer/Fall Issue is June 25, 2015. We expect subscribers to receive their copies about July. 20. Please send items to Pat Rasch, 24 Elm Road, Cromwell, CT 06416, or email to <mattabeseck@mac.com>. Please add "WINGBEAT" to the message's subject line.
Board of Directors — Next Meeting
The Board of Directors will meet at 7:30 p.m. on the third Wednesday of each month at deKoven House, 27 Washington Street, Middletown.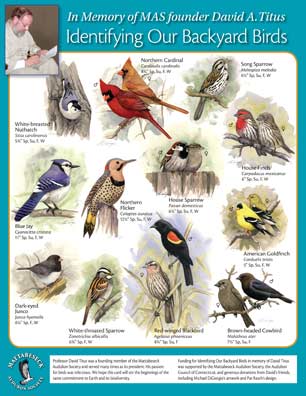 David Titus Memorial
Bird Card—
heavy-duty laminated
plastic—only $3.00!
The David Titus Memorial Bird Card is now available for a $3 donation. We will have them at MAS activities or request by email to mattabeseck@mac.com. Many thanks to Pat Rasch for putting it all together and to wildlife illustrator, Mike DiGiorgio, for his beautiful illustrations, many of which were painted specifically for this bird card. The card is a very inexpensive way to own some of the best bird art you'll ever see. It is extra heavy-duty, all-plastic laminate, printed in full color on both sides. Twenty-four birds are identified by their common name and Latin name, along with the length of the bird and the seasons that they are usually seen in our area. In species that have visual differences between the sexes, both sexes are portrayed.
If you find a baby bird...
If you find a baby bird or other animal, it's best to leave it alone. Chances are the parent is nearby and will take care of the baby when you leave the area. If not or you have some other wildlife problem, contact the CT Wildlife Rehabilitators Association at http://www.cwrawildlife.org/ where you can find a rehabilitator in your area or someone to address your problem.