Our Mission: The Mattabeseck Audubon Society, a chapter of the National Audubon Society, is committed to environmental leadership and education for the benefit of the community and the earth's biodiversity.

deKoven House, 27 Washington Street, Middletown, Connecticut 06457
What's New at Mattabeseck Audubon
ANNOUNCEMENTS:
Mattabeseck Audubon Needs Your Help
We need you. There is always a need for new volunteer leaders in any organization, but the past couple of years have brought losses to our board that have created even greater challenges. Joanne Luppi's death and Marcy Klattenberg's retirement to the Cape have left big holes.
We're always looking for new board members.
Please contact us (phone / e-mail / slow mail) and let us know if you'd like to help.
Mark Your Calendar
This year's Salmon River Christmas Bird Count will be Sunday, December 20, 2015. Please note the late date. Because the count period begins on Dec. 15, the first Sunday is the 20th. See Count page for more details.
Download Fall/Winter 2015-16 Wingbeat
The Fall/Winter issue of Wingbeat is now available for download. This .pdf file can be read on iPad, computer, and most tablets.
November 7 & November 14 (Saturdays 7:00 p.m.)
Owl Prowls (2 of them)

December 20 (Sunday)
41st Annual MAS Salmon River Christmas Bird Count
(Note: tally will be at Farrell's Restaurant, Portland this count)
January 9 (Saturday 8:00 a.m.)
Eagles at Machimoodus Park
February 12-15 (Friday - Monday)
Great Backyard Bird Count

Members' Corner
from Alberta Mirer, Board Member
We're Not Just For the Birds:
What A Difference A Tree Makes
Trees planted in the right location can reduce a home's energy costs. Deciduous trees, such as oak, maple, locust, basswood and hickory planted on the west or south side of the house offer shade in the summer sun while allowing the winter sun to shine through. Evergreens planted in a row on the north or northwest side of a house will work like linebackers in winter to block the cold. If everyone planted just one tree in a location that keeps the air conditioning from doing double time, the reduction in emissions at power plants would be substantial.
Another benefit from healthy native trees is their sheer beauty. They can increase property value by an average of 10% according to US Forest Service statistics.
An average-size tree soaks up about 50 pounds worth of carbon dioxide a year. This isn't much considering an average car spews about 10,000 pounds a year, but in the collective it's something.
National Wildlife April/ May 2005

"Having trees is a little like having children…
they take a lot of work and have good and bad features! : ) "
Liz Hurley
Wingbeat Deadline for Next Issue
The deadline for items to be included in the Winter/Spring Issue is December 26, 2015. We expect subscribers to receive their copies about January 20. Please send items to Pat Rasch, 24 Elm Road, Cromwell, CT 06416, or email to <mattabeseck@mac.com>. Please add "WINGBEAT" to the message's subject line.
Board of Directors — Next Meeting
The Board of Directors will meet at 7:30 p.m. on the third Wednesday of each month at deKoven House, 27 Washington Street, Middletown.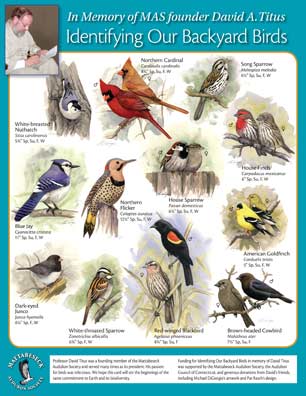 David Titus Memorial
Bird Card—
heavy-duty laminated
plastic—only $3.00!
The David Titus Memorial Bird Card is now available for a $3 donation. We will have them at MAS activities or request by email to mattabeseck@mac.com. Many thanks to Pat Rasch for putting it all together and to wildlife illustrator, Mike DiGiorgio, for his beautiful illustrations, many of which were painted specifically for this bird card. The card is a very inexpensive way to own some of the best bird art you'll ever see. It is extra heavy-duty, all-plastic laminate, printed in full color on both sides. Twenty-four birds are identified by their common name and Latin name, along with the length of the bird and the seasons that they are usually seen in our area. In species that have visual differences between the sexes, both sexes are portrayed.
If you find a baby bird...
If you find a baby bird or other animal, it's best to leave it alone. Chances are the parent is nearby and will take care of the baby when you leave the area. If not or you have some other wildlife problem, contact the CT Wildlife Rehabilitators Association at http://www.cwrawildlife.org/ where you can find a rehabilitator in your area or someone to address your problem.