Our Mission: The Mattabeseck Audubon Society, a chapter of the National Audubon Society, is committed to environmental leadership and education for the benefit of the community and the earth's biodiversity.

deKoven House, 27 Washington Street, Middletown, Connecticut 06457
What's New at Mattabeseck Audubon
Celebrating MAS 40th Anniversary in 2014
In 2014, the Mattabeseck Audubon Society celebrates its 40th anniversary with a series of field trips and programs.
MAS 2014 Anniversary Activities
Feb. 8
Field Trip
Eagles at Machimoodus
Feb. 14-17
Field Trip
Great Backyard Bird Count
Mar. 15
Field Trip
Let's Go a-Ducking
Apr. 12
Field Trip
Wildflower Walk, Guiffrida Park, Meriden
May 3
Field Trip
David Titus Memorial Warbler Walk
May 17
Field Trip
Portland, Spring Migration (w/Htfd Aud.)
May 17
Program/Field Trip
Neotropicals at CFPA with Frank Mantlik
May 24
Program/Field Trip
Lichens with CT Gravestone Network and CT Botanical Society
May 31
Field Trip
Canoe Trip, Salmon River (musseling)
June 21
Field Trip
Wangunk Plants with CT Botanical Society
August 16
Field Trip
Canoe Trip, Shore Birds, Old Lyme Griswold Point
October 11
Field Trip
Sparrow Crawl
November
Field Trip
Owl Prowls
&nbsp
December
Field Trip
Salmon River Christmas Bird Count
Mattabeseck Audubon's History Page
Download Summer/Fall 2014 Wingbeat issue
The Summer/Fall issue of Wingbeat is now available for download. This .pdf file can be read on iPad, computer, and most tablets.
August 16
Shore Birds Canoe Trip, Old Lyme, Griswold Point
October 11
Sparrow Crawl

Wingbeat Deadline for Next Issue
The deadline for items to be included in the Fall/Winter Issue is Thursday, September 25, 2014. We expect subscribers to receive their copies about Oct. 20. Please send items to Pat Rasch, 24 Elm Road, Cromwell, CT 06416, or email to <mattabeseck@mac.com>. Please add "WINGBEAT" to the message's subject line.
Members' Corner
From Alberta Mirer, Board Member
How Birds Use Acorns
The nuthatch uses its beak to hammer the acorn shell open. The wild turkey swallows acorns whole and lets its muscular gizzard break up the nuts. The grackle has a hard ridge or keel in the roof of its mouth; using its bill, the bird rotates an acorn against this projection to slice through the nutshell. A blue jay will load its expandable throat and esophagus with several nuts, then fly back to its home territory and there bury the acorns beneath leaf duff, soft soil, or grass to be eaten in winter and spring. Acorns that jays fail to recover, and that squirrels do not dig up and pilfer, germinate and may become new trees. Scientists believe that blue jays' transporting and burying of acorns helped oak trees march northward after the last ice age ended, around 10,000 years ago, when the oak species remained only in the South.
The Link between Crossbills and Spruce Trees
Crossbills are birds that compete directly with red squirrels for spruce (cone) kernels. Research by wildlife biologists suggests that a crossbill needs to eat a spruce kernel about every seven seconds, all day long during daylight hours, to survive a typical northern winter.
Both these quotes are from "Trees of New England,
A Natural History" by Charles Fergus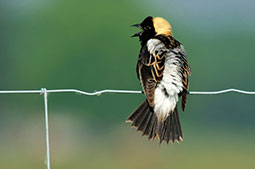 From Luella D. Landis, Board Member
Concerning Bobolinks

In his Journal (June 20, 1857), Henry David Thoreau records the Truro, Cape Cod child who asked about a bobolink:
"What makes he sing so sweet, Mother?
Do he eat flowers?"
This is one of my favorite bird associated quotes. What can be more charming and delightful than this innocent child's question concerning a songbird?
As a young girl, I was fascinated with bobolinks, and eager to understand more about these birds of the meadows and grasslands. When I was seven, I composed a very simple song about one of them, and I always seemed to be making bobolink drawings. Although I haven't seen a bobolink in some years, my interest is still piqued whenever I think of these birds which were introduced to me so many years ago.
Named for the male's bubbling "bob-o-link" songs, they nest in hayfields and open weedy grasslands. During the mating season, male bobolinks frequently sing in a fluttering display flight. They are entirely black below, with a white rump and shoulders, and a buff-colored nape. Some birders say they are suggestive of a tux on backwards. Females are yellowish, and are heavily streaked above and on their flanks. They feed on insects, grain and seeds.
Migrating over 12,000 miles from their breeding areas in the northern United States and southern Canada, they winter in the pampas, the immense grasslands in Argentina, Brazil, Paraguay, and Uruguay. They almost double their body weight for this journey, and fly at night to avoid predatory hawks. Anatomical studies of their heads indicate that the olfactory and cranial nerve cells contain deposits of iron oxide. Although bobolinks navigate by a combination of the earth's magnetic field and the stars, magnetism is their primary navigational tool. Once their internal compass has been set, they rely on celestial navigation.
Bobolinks are threatened by major declines in suitable habitat, as well as by agricultural practices. Early cutting of hayfields before the young birds fledge, can kill a high percentage of them. When hayfields are on conservation lands, conservation commissions can help by setting a policy to delay cutting until after bobolinks have fledged. Studies in northern states recommend that mowing be delayed until late July or early August.
Board of Directors — Next Meeting
The Board of Directors will meet at 7:30 p.m. on the third Wednesday of each month at deKoven House, 27 Washington Street, Middletown.
Left: The Federal Duck Stamp for 2014 featuring the Grimm painting / Right: The Connecticut Duck Stamp for 2014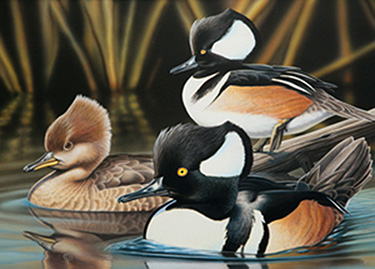 Buy Duck Stamps
We urge everyone to buy Duck Stamps. The funds the U.S. Fish & Wildlife Service and the State of Connecticut receive from the sale of Duck Stamps go directly to conservation of habitat that supports not only waterfowl but many other species of birds, other animals, and indigenous plants.
Purchase Federal Duck Stamps at the Post Office or http://www.fws.gov/duckstamps/ Purchase State of Connecticut Duck Stamps at your local town hall; stamps bought in January 2014 are valid for one year.
Adam Grimm's oil painting of canvasbacks (above) will be made into the 2014-2015 Federal Duck Stamp, on sale in late June 2014.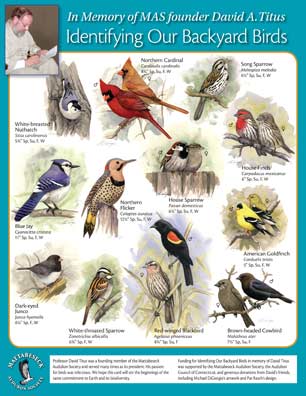 David Titus Memorial
Bird Card—
heavy-duty laminated
plastic—only $3.00!
The David Titus Memorial Bird Card is now available for a $3 donation. We will have them at MAS activities or request by email to mattabeseck@mac.com. Many thanks to Pat Rasch for putting it all together and to wildlife illustrator, Mike DiGiorgio, for his beautiful illustrations, many of which were painted specifically for this bird card. The card is a very inexpensive way to own some of the best bird art you'll ever see. It is extra heavy-duty, all-plastic laminate, printed in full color on both sides. Twenty-four birds are identified by their common name and Latin name, along with the length of the bird and the seasons that they are usually seen in our area. In species that have visual differences between the sexes, both sexes are portrayed.
If you find a baby bird...
If you find a baby bird or other animal, it's best to leave it alone. Chances are the parent is nearby and will take care of the baby when you leave the area. If not or you have some other wildlife problem, contact the CT Wildlife Rehabilitators Association at http://www.cwrawildlife.org/ where you can find a rehabilitator in your area or someone to address your problem.