Our Mission: The Mattabeseck Audubon Society, a chapter of the National Audubon Society, is committed to environmental leadership and education for the benefit of the community and the earth's biodiversity.

deKoven House, 27 Washington Street, Middletown, Connecticut 06457
What's New at Mattabeseck Audubon
Notice CHANGE OF DATE:
Mattabeseck Annual Meeting, May 18th, 7:30 pm
The Mattabeseck Audubon Annual Meeting will be held on May 18 at 7:30 p.m. at the deKoven House at 27 Washington Street in Middletown. Nominations for new board members can be made to Luella Landis, the chair of the Nominations Committee at GWLA620@yahoo.com .
Download Spring/Summer 2016 Wingbeat
The Spring/Summer issue of Wingbeat is now available for download. This .pdf file can be read on iPad, computer, and most tablets.
May 7 (Saturday 8 a.m.)
David Titus Memorial Warbler Walk
June 4 (Saturday 8 a.m.)
Canoe Trip (Areas of Special Concern, Silvio O. Conte)
(Note: this trip leaves from Cromwell's Connecticut River town launch at the end of River Road)
TRIP IS NOW FILLED TO CAPACITY!
August 26 (Friday—time TBD) (More info below)
Trip to Plum Island

---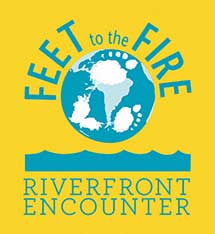 Mattabeseck Participating in Feet to the Fire
Saturday, May 7, Noon–5 p.m.;
Harbor Park, Middletown

Feet to the Fire is a major undertaking of Wesleyan University to examine critical environmental issues through multiple lenses, from science to art.
Mattabeseck will be participating in the Riverfront Encounter on May 7 from noon till 5 p.m. at Harbor Park beside the Connecticut River in Middletown. The festival includes exhibits, music, Plein Air painters, and lots of fun activities for kids.
Come visit our table to make a bird feeder, learn about the birds in our area or the beavers living at the Helen Carlson Sanctuary. Admission is free and food is available for purchase at the event.
Anyone wishing to help, please call Alison Guinness at 860-873-9304 or email at wjguinness@snet.net.
---
MAS to Sponsor Visit
to Plum Island
Tuesday, August 23, 2016

Mattabeseck Audubon will be sponsoring a trip to Plum Island, located just off the eastern tip of Long Island. The island has been the site of military installations from the earliest days of the country and a USDA research area since the 1950s. Congress voted to relocate the research facility and sell the island.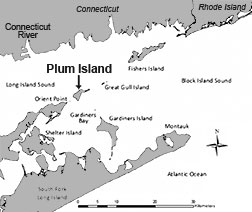 Today, the Connecticut Fund for the Environment is leading a massive effort to preserve the whole island. Visits require a security check of all attendees and US citizenship.
The trip is free and leaves from Old Saybrook. However, it has now been filled to capacity.
We will include the schedule for the day when we have received it.
Photo Alison Guinness; map NY Natural Heritage Program
Members' Corner
from Alberta Mirer, Board Member
Be a Piping Plover / Least Tern Volunteer
Anyone who wishes to become a USFWS piping plover/ least tern volunteer monitor, please contact the Audubon Alliance for Coastal Water Birds at www.ctwaterbirds.blogspot.com. The Wildlife Division will be ready to use all of the tools, data, and manpower available to effectively manage imperiled shorebird populations in Connecticut.
from Alison Guinness, MAS President
Connecticut Celebrates 150 Years of Natural Resource Conservation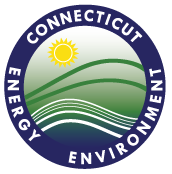 Connecticut has often been on the cutting edge of environmental legislation and conservation. As early as 1648, the colonial government passed a law prohibiting the hunting of deer, recognizing the importance of our natural resources as various parts of them disappeared like the turkey by 1813 and the beaver by 1842, not to mention the forests. With the arrival of the Industrial Revolution, almost every waterway was dammed for power, making it impossible for anadromous fish to swim upstream and spawn, thus reducing the once incredibly bountiful shad and salmon populations. Consequently, the first official conservation agency in the state was the Fisheries Commission, established in 1866.
In those following 150 years, the Fisheries Commission expanded to the Board of Fisheries and Game with the addition of game wardens to enforce the regulations. Wildlife missing from the environment were re-introduced; others were protected and managed. In 1971, the Connecticut Department of Environmental Protection was established, which became the Department of Energy and Environmental Protection in 2011. The Wildlife Division oversees a vast array of challenges, including climate change, endangered and invasive species, and habitat loss and degradation – all this with little funding and a constantly declining staff. There are many volunteer opportunities to assist in this effort.
For more on the celebration, visit: http://www.ct.gov/deep/cwp/view.asp?a=2723&Q=572708&deepNav_GID =1641#Events
Dryer Sheet and Substitutes
Tired of paying for expensive dryer sheets? Wondering what toxic chemicals are in them? Want to reduce your waste stream? I became concerned when I read This Is What You Just Put in Your Mouth? by Patrick Di Justo. It includes other things that you don't put in your mouth – like dryer sheets. There are alternatives. I knew about dryer balls that soften and fluff and reduce drying time. I bought two, but it didn't seem to be enough for a large load, so I threw in a tennis ball the cats had for a toy. The other problem is static. I found a solution online using balls made of aluminum foil. It's working pretty well, but it's still in the experimental phase.
from Alberta Mirer, Board Member
We're Not Just for the Birds — We're for the Environment Too
Be on the Lookout for Discarded Tires: Improperly stored or discarded scrap tires are not only unsightly, but also can be unhealthy when they provide habitat for mosquitoes and other pests. Mosquitoes can be found in almost any natural and artificial still-water environment. Tire casings readily mimic natural tree cavities, providing an effective incubator for mosquito larvae.
Conn's two exotic mosquitoes, the Asian bush mosquito and Asian tiger mosquito, were most likely imported into the US in shipments of tires and quickly expanded their range by means of the used tire trade.
Scrap tires should be disposed of promptly and properly through a licensed tire hauler. At a minimum, tires should be stored under cover, or stacked and covered with plywood or other flat cover to prevent rainwater from entering (if covered with a tarp, make sure that doesn't collect rainwater as well).
Although not readily apparent, discarded tires play a role in public health as a source of mosquitoes, and their importation and interstate movement can have significant impacts on the health, ecology, and economy of our state and country. For more information:
Conn Mosquito Management Program: www.ct.gov/mosquito
American Mosquito Control Association: www.mosquito.org
Northeastern Mosquito Control Association: www.nmca.org
National Centers for Disease Control and Prevention: www.cdc.gov
Connecticut Wildlife March / April 2015 www.ct.gov/deep
from Alberta Mirer, Board Member
More Females Do It Than Don't
Recent research suggests that the idea that female birds in general do not sing reflects where ornithologists live and work more than what birds actually do. Most research on bird song has been done in North America and Europe, where you see brightly colored males, and they are singing. Birds in more tropical climes, where the majority of songbird species live, are different. In the Tropics most females sing just as long and loud as males and many of them also are just as colorful –so much so it can be difficult for scientists to determine the gender of songbirds without catching them. By comparing oriole species in North America with their southern kin, researchers have discovered significant differences.
For example, in Maryland the genders are distinct. Female orioles are dull, green-brown and generally don't sing. Males are brilliant orange and black and definitely do sing. In the Puerto Rican species, females look just like males, both are colorful and they sing, often in duets, with one bird beginning and his or her mate following.
So, what explains these differences? In Maryland, the birds are present only during the spring and summer breeding season, after which they migrate to Latin America for the winter. They need to secure territories, attract mates, reproduce, rear their young and migrate south before fall arrives—meaning males must quickly grab females' attention and fend off competitors with bright colors and vibrant songs.
In Puerto Rico, where orioles breed year-round, the competition instead is for resources such as food. Both males and females engage in this competition, and both employ color and song to advertise their prowess. Gender roles on the island are more equal, with females often defending males as well as the pair's territory.
Of the 1,141 species the researchers analyzed—representing 32 songbird families living on every part of the planet, 71% have females that sing, far more than expected. It's likely that females sang in the first songbird species to evolve roughly 60 million years ago. This research has thrown out the window a long-held assumption that evolution has favored singing by males alone.
National Wildlife December / January 2016
from Luella D. Landis, MAS Vice President
Henry David Thoreau — written May 20, 1853 in his Journal, vol. 6
Saw a tanager in Sleepy Hollow. It most takes the eye of any bird. You here have the red-wing reversed—the deepest scarlet of the red-wing spread over the whole body—not on the wing coverts merely while the wings are black. It flies through the green foliage as if it would ignite the leaves.
Wingbeat Deadline for Next Issue
The deadline for items to be included in the Spring/Summer Issue is March 26, 2016. We expect subscribers to receive their copies about April 20. Please send items to Pat Rasch, 24 Elm Road, Cromwell, CT 06416, or email to <mattabeseck@mac.com>. Please add "WINGBEAT" to the message's subject line.
Board of Directors — Next Meeting
The Board of Directors will meet at 7:30 p.m. on the third Wednesday of each month at deKoven House, 27 Washington Street, Middletown.
Mattabeseck Audubon Needs Your Help
We need you. There is always a need for new volunteer leaders in any organization, but the past couple of years have brought losses to our board that have created even greater challenges. Joanne Luppi's death and Marcy Klattenberg's retirement to the Cape have left big holes.
We're always looking for new board members.
Please contact us (phone / e-mail / slow mail) and let us know if you'd like to help.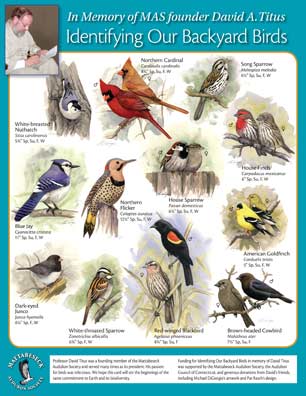 David Titus Memorial
Bird Card—
heavy-duty laminated
plastic—only $3.00!
The David Titus Memorial Bird Card is now available for a $3 donation. We will have them at MAS activities or request by email to mattabeseck@mac.com. Many thanks to Pat Rasch for putting it all together and to wildlife illustrator, Mike DiGiorgio, for his beautiful illustrations, many of which were painted specifically for this bird card. The card is a very inexpensive way to own some of the best bird art you'll ever see. It is extra heavy-duty, all-plastic laminate, printed in full color on both sides. Twenty-four birds are identified by their common name and Latin name, along with the length of the bird and the seasons that they are usually seen in our area. In species that have visual differences between the sexes, both sexes are portrayed.
If you find a baby bird...
If you find a baby bird or other animal, it's best to leave it alone. Chances are the parent is nearby and will take care of the baby when you leave the area. If not or you have some other wildlife problem, contact the CT Wildlife Rehabilitators Association at http://www.cwrawildlife.org/ where you can find a rehabilitator in your area or someone to address your problem.