Our Mission: The Mattabeseck Audubon Society, a chapter of the National Audubon Society, is committed to environmental leadership and education for the benefit of the community and the earth's biodiversity.

deKoven House, 27 Washington Street, Middletown, Connecticut 06457
What's New at Mattabeseck Audubon
Celebrating MAS 40th Anniversary in 2014
In 2014, the Mattabeseck Audubon Society celebrates its 40th anniversary with a series of field trips and programs.
MAS 2014 Anniversary Activities
Feb. 8
Field Trip
Eagles at Machimoodus
Feb. 14-17
Field Trip
Great Backyard Bird Count
Mar. 15
Field Trip
Letís Go a-Ducking
Apr. 12
Field Trip
Wildflower Walk, Guiffrida Park, Meriden
May 3
Field Trip
David Titus Memorial Warbler Walk
May 17
Field Trip
Portland, Spring Migration (w/Htfd Aud.)
May 17
Program/Field Trip
Neotropicals at CFPA with Frank Mantlik
May 24
Program/Field Trip
Lichens with CT Gravestone Network and CT Botanical Society
May 31
Field Trip
Canoe Trip, Salmon River (musseling)
June 21
Field Trip
Wangunk Plants with CT Botanical Society
August 16
Field Trip
Canoe Trip, Shore Birds, Old Lyme Griswold Point
October 12
Field Trip
Sparrow Crawl DATE CHANGE due to Rain: to SUNDAY
November 1 & 8
Field Trip
Owl Prowls
&nbsp
December 14
Field Trip
Salmon River Christmas Bird Count
Mattabeseck Audubon's History Page
Download Fall/Winter 2014-15 Wingbeat issue
The Fall/Winter issue of Wingbeat is now available for download. This .pdf file can be read on iPad, computer, and most tablets.
October 12, SUNDAY because of Saturday rain forecast
Sparrow Crawl
November 1 & 8
(Two) Owl Prowls

December 14
40th Salmon River Christmas Count

January 17, 2015
Eagles at Machimoodus Park

February 13–16, 2015
Great Backyard Bird Count

Wingbeat Deadline for Next Issue
The deadline for items to be included in the Fall/Winter Issue is Thursday, September 25, 2014. We expect subscribers to receive their copies about Oct. 20. Please send items to Pat Rasch, 24 Elm Road, Cromwell, CT 06416, or email to <mattabeseck@mac.com>. Please add "WINGBEAT" to the message's subject line.
Members' Corner
From Alberta Mirer, Board Member
Why Birds Migrate
The basic reason birds migrate is availability of food. A hummingbird needs nectar to survive and must fly to an area where flowers are blooming. Neotropical birds migrate from the tropics to Maine or further north for a longer day, and a more plentiful food supply to raise their young.
Birds find their way using several different techniques, but there are three basic tools: a sun compass, comparing the sun's apparent position with the bird's internal circadian clock. In effect, if the clock says it's nine a.m. and the sun is on the left, then the heading is south. Birds are able to detect polarized light allowing them to determine the sun's position even on cloudy days, and for a while after sunset. Some birds use a star compass, orienting on the north star in this hemisphere which is an absolute point of reference. They also have a magnetic compass, believed to be used by long-distance migrants. It was around 1970 that this fact was conclusively demonstrated. Because the migratory feats of birds are so amazing, people found them hard to believe and folklore developed to explain how the migration might be possible, including the belief that small birds hibernated.
—John Berry and Karen Carlisle; from the Merry Meeting chapter of Maine Audubon
Two North American Bird Species Became Extinct in 1914
One hundred years ago, the last Passenger Pigeon and the last Carolina Parakeet died. Migrating flocks of Passenger Pigeons would leave the sky black for hours, even days. The ornithologist Alexander Wilson estimated one roosting site he visited as having over two billion birds. Just as we today may have a difficult time visualizing the size of a flock of Passenger Pigeons, people then couldn't imagine that within a short time there would not be one of these birds left. In memory of these birds, Water n' Webs is offering hand-crafted Passenger Pigeon and Carolina Parakeet Dolls for $6 each plus $3 shipping. Donations go towards bird conservation efforts. Water n' Webs Rehab Centre, P.O. Box 524, Northford, CT 06472
"The Perfect Flying Machine"
Flight demands greater intensity of effort than does any other means of animal locomotion, and so a bird's heart beats many times per second, its breathing is correspondingly rapid, and its blood has more red corpuscles per ounce than any other creature. Just as a motor may weigh half of a small airplane, the powerful wing muscles of a pigeon have been found to weigh half the whole bird. If you want to see the ultimate in vertebrate flexibility, you must examine a bird's neck. More pliant than a snake, it enables the beak to reach any part of the body with ease and balances the whole bird in flight. Even the stocky little sparrow has twice as many vertebrae in its neck as the tallest giraffe: fourteen for the sparrow, seven for the giraffe.
—From Treasury of North American Bird Lore, by Guy Murchie, Jr.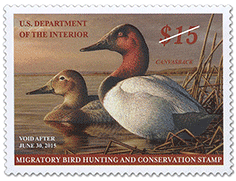 From Larry Cyrulik
Reminder: Buy Duck Stamps
We urge everyone to buy Duck Stamps. The funds the U.S. Fish & Wildlife Service and the State of Connecticut receive from the sale of Duck Stamps go directly to conservation of habitat that supports not only waterfowl but many other species of birds, other animals, and indigenous plants.
Purchase Federal Duck Stamps at the Post Office or http://www.fws.gov/duckstamps/
Purchase State of Connecticut Duck Stamps at your local town hall.
Stamps bought in January 2014 are valid for one year.
Board of Directors — Next Meeting
The Board of Directors will meet at 7:30 p.m. on the third Wednesday of each month at deKoven House, 27 Washington Street, Middletown.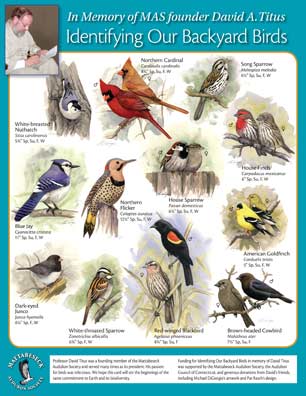 David Titus Memorial
Bird Card—
heavy-duty laminated
plastic—only $3.00!
The David Titus Memorial Bird Card is now available for a $3 donation. We will have them at MAS activities or request by email to mattabeseck@mac.com. Many thanks to Pat Rasch for putting it all together and to wildlife illustrator, Mike DiGiorgio, for his beautiful illustrations, many of which were painted specifically for this bird card. The card is a very inexpensive way to own some of the best bird art you'll ever see. It is extra heavy-duty, all-plastic laminate, printed in full color on both sides. Twenty-four birds are identified by their common name and Latin name, along with the length of the bird and the seasons that they are usually seen in our area. In species that have visual differences between the sexes, both sexes are portrayed.
If you find a baby bird...
If you find a baby bird or other animal, it's best to leave it alone. Chances are the parent is nearby and will take care of the baby when you leave the area. If not or you have some other wildlife problem, contact the CT Wildlife Rehabilitators Association at http://www.cwrawildlife.org/ where you can find a rehabilitator in your area or someone to address your problem.