Our Mission: The Mattabeseck Audubon Society, a chapter of the National Audubon Society, is committed to environmental leadership and education for the benefit of the community and the earth's biodiversity.

deKoven House, 27 Washington Street, Middletown, Connecticut 06457
What's New at Mattabeseck Audubon
In Memoriam
We note with regret the passing of Mary Dimon, Middletown native and long time Mattabeseck Audubon supporter. Her sharp wit and sanguine personality added flavor to her many contributions to the cause of conservation. We express condolences to her family.
The 39th MAS Annual Salmon River
Christmas Bird Count will be held on
Sunday, December 15, 2013
See Christmas Count page for details.
Download Fall/Winter Wingbeat issue
The Fall / Winter issue of Wingbeat is now available for download. This .pdf file can be read on iPad, computer, and other devices.
October 12
Sparrow Crawl
November 2
Owl Prowl #1
November 9
Owl Prowl #2
December 15
Salmon River Christmas Bird Count
February 8
Eagles at Machimoodus Park
February 14-17
Great Backyard Bird Count
Wingbeat Deadline for Next Issue
The deadline for items to be included in the Winter/Spring Issue is Thursday, December 26, 2013. We expect subscribers to receive their copies about January 20. Please send items to Pat Rasch, 24 Elm Road, Cromwell, CT 06416, or email to <mattabeseck@mac.com>. Please add "WINGBEAT" to the message's subject line.
Board of Directors — Next Meeting
The Board of Directors will meet at 7:30 p.m. on the third Wednesday of each month at deKoven House, 27 Washington Street, Middletown.
Audubon Members' Corner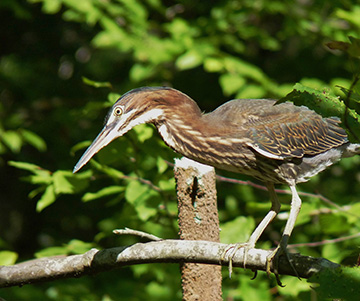 Peculiar Happenings
Not a partridge, but an immature Green heron in a pear tree: that phenomenon took place on a property in the center of old downtown Cromwell. It was the third week of June and the waters of the Connecticut River were receding from the floodplains having been deposited there by an unusually lachrymose month.
The brightness of early summer had returned. The pear tree had finished blossoming and tiny nubs of fruit, pregnant flowers, swelled amongst the bristling branches of the tree. In the foliage the immature Green heron quietly passed the long afternoon. It could have chosen any number of wetland complexes or ponds within a radius of a mile from its perch but it seemed satisfied with the pear tree. From its vantage point the heron could see the garden with its numerous upright tomato stakes, the perennial flowerbeds, and the mulberry tree anxious to distribute its seed through the intestines of birds and squirrels.
Towards early evening before dusk painted the skies with hues of pink and purple an adult Green heron flew at some distance over the pear tree. The immature burst forth from its somnambulism and followed the adult with strong, purposeful wing beats.
This event was repeated every day for about a week. Once, two Green herons were observed in the pear tree. An adult lingered nearby while one of the fledglings came down from its roost and poked about on the ground, thrusting its bill into a dish of water or picking at bugs along the chain link dog enclosure. Skipping and chattering from the walnut tree to the Norway maple, the adult kept an eye on its charges before being discovered by someone below and flying off.
Then suddenly these visits ceased and the herons did not return. The day care nursery had served its purpose and was no longer needed.
Larry Cyrulik
Left: The Federal Duck Stamp for 2014 featuring the Grimm painting / Right: The Connecticut Duck Stamp for 2014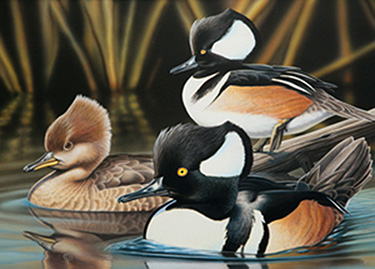 Buy Duck Stamps
We urge everyone to buy Duck Stamps. The funds the U.S. Fish & Wildlife Service and the State of Connecticut receive from the sale of Duck Stamps go directly to conservation of habitat that supports not only waterfowl but many other species of birds, other animals, and indigenous plants.
Purchase Federal Duck Stamps at the Post Office or http://www.fws.gov/duckstamps/ Purchase State of Connecticut Duck Stamps at your local town hall; stamps bought in January 2014 are valid for one year.
Adam Grimm's oil painting of canvasbacks (above) will be made into the 2014-2015 Federal Duck Stamp, on sale in late June 2014.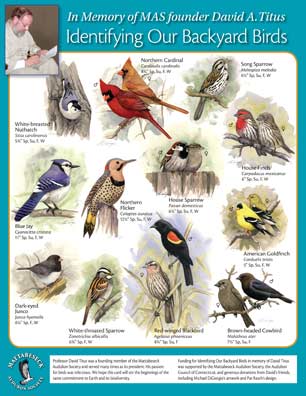 David Titus Memorial
Bird Card—
heavy-duty laminated
plastic—only $3.00!
The David Titus Memorial Bird Card is now available for a $3 donation. We will have them at MAS activities or request by email to mattabeseck@mac.com. Many thanks to Pat Rasch for putting it all together and to wildlife illustrator, Mike DiGiorgio, for his beautiful illustrations, many of which were painted specifically for this bird card. The card is a very inexpensive way to own some of the best bird art you'll ever see. It is extra heavy-duty, all-plastic laminate, printed in full color on both sides. Twenty-four birds are identified by their common name and Latin name, along with the length of the bird and the seasons that they are usually seen in our area. In species that have visual differences between the sexes, both sexes are portrayed.
If you find a baby bird...
If you find a baby bird or other animal, it's best to leave it alone. Chances are the parent is nearby and will take care of the baby when you leave the area. If not or you have some other wildlife problem, contact the CT Wildlife Rehabilitators Association at http://www.cwrawildlife.org/ where you can find a rehabilitator in your area or someone to address your problem.