Our Mission: The Mattabeseck Audubon Society, a chapter of the National Audubon Society, is committed to environmental leadership and education for the benefit of the community and the earth's biodiversity.

deKoven House, 27 Washington Street, Middletown, Connecticut 06457
What's New at Mattabeseck Audubon
ANNOUNCEMENTS:
Mattabeseck Audubon Needs Your Help
We need you. There is always a need for new volunteer leaders in any organization, but the past couple of years have brought losses to our board that have created even greater challenges. Joanne Luppi's death and Marcy Klattenberg's retirement to the Cape have left big holes.
We're always looking for new board members.
Please contact us (# / e-mail / slow mail) and let us know if you'd like to help.
Mark Your Calendar
This year's Salmon River Christmas Bird Count will be Sunday, December 20, 2015. Please note the late date. Because the count period begins on Dec. 15, the first Sunday is the 20th. More details will be in the next Wingbeat.
Wildlife Action Plan
Time is running out! The DEEP's Wildlife Action Plan will be finalized by October. It's main goal is to keep common species common. Everyone is encouraged to read the plan and provide input. n
Via e-mail: deep.wildlifeactionplan@ct.gov
website: www.ct.gov/deep/wildlifeactionplan
Download Summer/Fall 2015 Wingbeat
The Summer/Fall issue of Wingbeat is now available for download. This .pdf file can be read on iPad, computer, and most tablets.
August 15 (Saturday 8:00 a.m.)
Shore Birds Canoe Trip

October 10 (Saturday 8:00 a.m.)
Sparrow Crawl

Help Control This Invasive: Fanwort (Cabomba)
Please be on the lookout for any pieces of this nasty invader. Please check your boat, nets, and other equipment after use in any fresh water-body and remove and carefully dispose of any fragments of water weeds. (See bottom of this page.) Never dump aquarium plants or water into our natural water­bodies. Fanwort spreads extensively and very quickly, choking out native vegetation and hindering use of waterways.
Fanwort currently covers a large area towards the apex of a cove on the Connecticut River in Cromwell. It has tripled its area in the past few years. It is difficult to remove by hand, because it is a fragile plant that is spread by small fragments.
Excerpted from University of Maine website: Bulletin #2522, Fanwort, Cabomba
Fanwort is a highly competitive, densely growing, submerged aquatic plant. Upon introduction into a new water body it progressively colonizes near shore areas, where it crowds out native plants and may hinder recreational activities. In relatively shallow lakes and ponds, fanwort can colonize the entire water body. Dense infestations of fanwort can alter species relationships, affect fish habitat, and impede swimming and boating. Dense infestations can degrade aesthetic and scenic quality, directly influencing tourism and real estate values. Like many invasive aquatic plants, fanwort can reproduce from small fragments. In late summer fanwort stems become brittle, and plants tend to break apart, creating opportunities for spread. As with other invasive aquatic plants, fanwort is extremely difficult to remove once it becomes established.
Fanwort is a submerged aquatic plant that produces emergent flowers, and sometimes small floating leaves. It is a perennial, growing from short rhizomes with fibrous roots. Stems may grow up to thirty feet in length. Submerged leaves are one to two inches across, with petioles opposite on the stem. Leaves are finely dissected into thin, flat segments that give each leaf the appearance of an ornate fan—an attractive pattern that has made fanwort a popular aquarium plant. Floating leaves are smaller and are not dissected though they are sometimes split at the tip. Flowers are white, with three sepals and three petals, and are typically about a half-inch wide. Flowers are solitary, each on separate stems arising from the axils of the floating leaves. Fanwort may be found in ponds, lakes and quiet streams.
Fanwort is native to South America and some southern areas of North America. It is an aggressive species in northern and southern areas of the U.S. It has been widely used in the aquarium trade for a number of years, which has probably been the source of some local infestations as well as infestations in places as far away as Australia.
Prevention and Control: The best way to control this species, or any aquatic invader, is to prevent it from being introduced in the first place. Anyone engaged in water activities should be aware of the potential for the spread of invasive plants and take steps to prevent their introduction. Your actions can make a difference. Simple things you can do include inspecting boats, motors and trailers at the boat ramp before launching, and again after the boat has been hauled out. Prevent plant material from getting into bait buckets and live wells, and from getting tangled up in anchor ropes or fishing gear. Plants cleaned from boats and gear should be disposed of in a trash receptacle, or away from water on dry land.
Once established, invasive aquatic plants are extremely difficult to eradicate. Control has been attempted with water level manipulations, mechanical control and herbicides. In most cases, plants have survived attempts at control. Biological controls for invasive aquatics are still being researched and may help limit growth of some species in the future.
References
Crow, G.E. and C.B. Hellquist. Aquatic and Wetland Plants of Northeastern North America. Madison: The University of Wisconsin Press, 2000.
Gleason, H.A. and A. Cronquist. Manual of Vascular Plants of Northeastern United States and Adjacent Canada, Second Edition. New York: New York Botanical Garden, 1991.
Commonwealth of Australia and National Weeds Strategy Executive Committee. Weeds of National Significance, Cabomba (Cabomba caroliniana), Strategic Plan, 2001.
Members' Corner
from Luella D. Landis, Board Member
The Pied-Billed Grebe – Submarine Bird
There are 22 species of grebes in the world, seven of which can be found in North America. But only one, the pied-billed, breeds in Connecticut. The pied-billed is a small, stocky grebe of shallow freshwater wetlands. It measures about 12 to 15 inches in length, with a wingspan of 18 to 24 inches. The adult plumage is an unmarked, drab gray/brown color punctuated by a white puffy cotton ball back end.
Grebes will escape danger by diving or slowly sinking under the surface like a submarine. This remarkable behavior is made possible by their unique ability to control their buoyancy. Their body feathers grow in such a way as to trap air against the body. By adjusting the feathers, grebes have the ability to trap or release air pockets, giving them the ability to lower themselves in the water quickly and inconspicuously. The birds can sometimes be seen swimming along with only their head sticking out of the water.
Nests are built over shallow water in vegetation bordering open water. The nest platform is constructed with floating vegetation anchored to nearby vegetation, such as cattail reeds. The water depth is shallow, but it must be deep enough to allow for escape from predators. With few recent breeding records, the pied-billed grebe is listed as endangered in Connecticut.
Connecticut Wildlife, September /October 2014
www.ct.gov/deep/WildlifeMagazine

Who's Calling?

The Birds are calling. Bird calls are innate and don't need to be learned. A call is a brief note or a few brief notes that convey immediate information and get an instantaneous response, such as an alarm or contact call.
Some birds, such as song birds, also have a song. Songs need to be learned and may have slight variations, such as our dialects. A song is a vocal display in which one or more sounds are repeated. It is used for communication, establishing territory and attracting a mate.
Massachusetts Wildlife, Vol XLX No 1, 2000
www.state.ma.us/dfwele/dfw

Thank you, Talia!

A big THANK YOU is extended to Talia Staiger of Cromwell for her four years of creating beautiful posters to publicize many of our MAS events. These special posters were displayed at the Cromwell Belden Public Library. An excellent student, Talia graduated from Mercy High School in May, and is planning to attend Uconn in the fall, majoring in physiology and neurobiology, with a minor in neuroscience. She enjoys running, and would like to participate on the university's track team. Best wishes to you, Talia, as you move on to a new chapter in your life!

From Alberta Mirer, Board Member
The Ruffed Grouse
The ruffed grouse is a medium-sized, fowl-like game bird best known for its courtship displays and thunderous takeoffs. This non-migratory, native Connecticut bird spends its entire life within a small area. It can be found in diverse forest habitat that contains a mixture of tree age classes and forest openings. Abandoned farmland that is in the process of reverting back to forestland provides excellent grouse habitat. However, as these young forests mature, their value to grouse decreases. Important grouse habitat will continue to decline without the help of forest management practices to create early successional habitat.
Connecticut Wildlife, July/ August 2014
For information on DEEP's Ruffed Grouse Project go to www.ct.gov/deep
Wingbeat Deadline for Next Issue
The deadline for items to be included in the Fall/Winter Issue is September 26, 2015. We expect subscribers to receive their copies about October 20. Please send items to Pat Rasch, 24 Elm Road, Cromwell, CT 06416, or email to <mattabeseck@mac.com>. Please add "WINGBEAT" to the message's subject line.
Board of Directors — Next Meeting
The Board of Directors will meet at 7:30 p.m. on the third Wednesday of each month at deKoven House, 27 Washington Street, Middletown.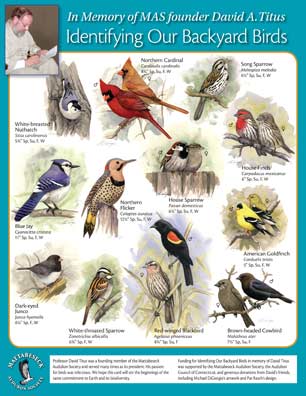 David Titus Memorial
Bird Card—
heavy-duty laminated
plastic—only $3.00!
The David Titus Memorial Bird Card is now available for a $3 donation. We will have them at MAS activities or request by email to mattabeseck@mac.com. Many thanks to Pat Rasch for putting it all together and to wildlife illustrator, Mike DiGiorgio, for his beautiful illustrations, many of which were painted specifically for this bird card. The card is a very inexpensive way to own some of the best bird art you'll ever see. It is extra heavy-duty, all-plastic laminate, printed in full color on both sides. Twenty-four birds are identified by their common name and Latin name, along with the length of the bird and the seasons that they are usually seen in our area. In species that have visual differences between the sexes, both sexes are portrayed.
If you find a baby bird...
If you find a baby bird or other animal, it's best to leave it alone. Chances are the parent is nearby and will take care of the baby when you leave the area. If not or you have some other wildlife problem, contact the CT Wildlife Rehabilitators Association at http://www.cwrawildlife.org/ where you can find a rehabilitator in your area or someone to address your problem.