Our Mission: The Mattabeseck Audubon Society, a chapter of the National Audubon Society, is committed to environmental leadership and education for the benefit of the community and the earth's biodiversity.

deKoven House, 27 Washington Street, Middletown, Connecticut 06457
What's New at Mattabeseck Audubon
If you find a baby bird or other animal...
If you find a baby bird or other animal, it's best to leave it alone. If you have found a baby, chances are the parent is nearby and will take care of the baby when you leave the area. If you have some other wildlife problem, contact the CT Wildlife Rehabilitators Association at http://www.cwrawildlife.org/ where you can find a rehabilitator in your area or someone to address your problem.

Wingbeat Correction: Sharon's correct email address as Christmas Count compiler is rsdell@comcast.net
(Invasive) Biribá and Jasmin (Im)Migrate into Sanctuary of Native/ist Beaver and Snake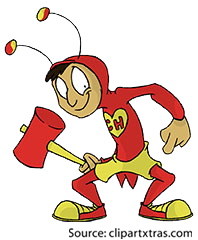 El Chapulín Colorado (or the Red Grasshopper) plays his part of Latin(o) American savior again in cleaning up the litter left at the border of a sanctuary as the winter snow melts and reveals the trash that was hidden under the white surface.
After some can(n)ed and other picking (up), he feels the weight of a bag full of trash, heavy as if they were coconuts loaded along the saddle of a cross between a horse and a donkey who works as an assistant to a coconut salesman.
Hence, El Chapulín Colorado falls into post-winter daydreams of his tropics and decides to look at some tropical plants such as the biribá and jasmin that might have been inside the sanctuary. Never mind the changes in latitude, which would not lead him to find any of these plants invading from the tropics. At the end of the day and as the story turns out, he would keep up his heroic attitude claiming about his misplaced search, "lo hice intencionalmente para el final feliz" (or, "I did it on purpose to end up on a happy note").
As soon as the Latin(o) American begins to walk the trail around the beaver-dammed pond at the center of the sanctuary, he sees a water snake swimming away from him on top of the pond. With a sense of wonder and his heroic courage, he keeps walking along the trail while thinking to himself his motto of "¡síganme los buenos!" ("let the good ones follow me"). A dozen minutes or so later, El Chapulín Colorado spots another water snake swimming farther off toward one of the beaver lodges in the pond. At that point, the savior encourages himself with the thought that the day is good in that the water snakes remind him of dolphins at the seashore, a thought that delivers him to his other motto of "que no panda el cúnico" ("nobody panic"). The Latin(o) American also finds the water that he keeps walking around to be lively with loud noises sounding like those of the berimbau from the biribá plant. The lively sound is adrift thanks to a lot of large birds looking like duck-like species that he would love to have the luxury to learn how to identify. He wonders about any of his tropical equivalents across the pond: Are the birds migratory and are the water snakes nativist obstacles to the flotation part of their avian (im)migration?
About another dozen Latin(o) American minutes later, El Chapulín Colorado stops on his tracks and watches out some more as soon as he makes out two small snakes well ahead next to the trail. He watches the snakes vigilantly while postponing for a later focus any of his wonder as to: Are the snakes simply small adults or are they as young as the saplings that he has been heroically clipping to clear the trail for those who may follow him in hiking the sanctuary? Without panic at snakes on dry land now as much as across (on) the pond, once the savior then chose to turn around he did so in a way that El Chavo Del Ocho (or The Boy from the Eighth) would say: "fue sin querer queriendo" (or, "it was wanting without want to do so").
It was in the same ambivalently mixed way cultural to Dona Flor or to a Doña Jasmin that El Chapulín Colorado would accidentally scavenge out of the trash a reward in his private interest while looking out for the public interest during another heroic pickup of some more trash under the whiteness on his way out of the sanctuary. Still, the savior would take heroic credit for discovering a bottle of Coca-Cola that was both at least 50 years old and an icon from the days when a nativist beaver might say the United States was nationally great, coming across (from) the snakes' pond water onto dry land to say so.
As usual, the Latin(o) American would say as if he intended to unearth the bottle, "no contaban con mi astucia" (or, "you weren't counting on my shrewdness"). Then the hero finds a more certain reward in a reflection that is a genie out of the bottle. Is his reward an U.S. national icon or an immigrant beyond borders when the coca is native to Latin America and the kola to Africa even without mentioning the more recent globalization of the mixed product? Is the bottle an iconic reward of greatness or trash when whichever among the four corners of the pond might be most native for the product, the consumption it epitomizes is degrading the planet, including northern sanctuaries like the one where he and the birds are (im)migrating? Concluding the latter twice, El Chapulín Colorado is happy to end his hike as his small grasshopper self of a worldwide or universal being and as his quixotic red self of a disinterested or civic hero after all.
R.G.P., Ph.D.
Protection of Connecticut Public Lands
The Connecticut legislature has finally acted to protect Connecticut public lands with the passing of Senate Joint Resolution No. 35 (SJ 35), an amendment to the state constitution to protect real property held or controlled by the state. This amendment would end such debacles as the Haddam Land Swap proposal. The amendment will be on the ballot in this year's election in Nov. Be sure to vote yes to protect public land—your land.
Sec. 19. (a) The general assembly shall not enact any legislation requiring a state agency to sell, transfer or otherwise dispose of any real property or interest in real property that is under the custody or control of such agency to any person or entity other than another state agency unless a committee of the general assembly has held a public hearing regarding such sale, transfer or disposition of such property or interest and the act of the general assembly requiring such sale, transfer or disposition of real property or interest in real property is limited in subject matter to provisions concerning such sale, transfer or disposition.
https://www.cga.ct.gov/2018/ACT/ra/pdf/2018RA-00001-R00SJ-00035-RA.pdf
Download Fall/Winter 2018 Wingbeat
The Fall/Winter issue of Wingbeat is now available for download. This .pdf file can be read on iPad, computer, and most tablets, and may be printed (letter-size pages) in color or grayscale.
November 2 and 10, 2018 (Saturday 7:00 p.m.)
Owl Prowls
December 16, 2018 (Sunday)
44th Annual MAS Salmon River Christmas Bird Count
February 2, 2019 (Saturday 8:00 a.m.)
Eagles at Machimoodus Park
February 15-18, 2019 Friday–Monday)
21st Annual Great Backyard Bird Count

Wingbeat Deadline for Next Issue
The deadline for items to be included in the Winter/Spring Issue is March 26, 2018. We expect subscribers to receive their copies about April 20. Please send items to Pat Rasch, 24 Elm Road, Cromwell, CT 06416, or email to <mattabeseck@mac.com>. Please add "WINGBEAT" to the message's subject line.
Board of Directors — Next Meeting
The Board of Directors will meet at 7:30 p.m. on the third Wednesday of each month at deKoven House, 27 Washington Street, Middletown. Note that the November meeting will have a change of time and place. Contact Alison Guinness for update.
Mattabeseck Audubon Needs Your Help
We need you. There is always a need for new volunteer leaders in any organization, but the past couple of years have brought losses to our board that have created even greater challenges. Joanne Luppi's death and Marcy Klattenberg's retirement to the Cape have left big holes.
We're always looking for new board members.
Please contact us (phone / e-mail / slow mail) and let us know if you'd like to help.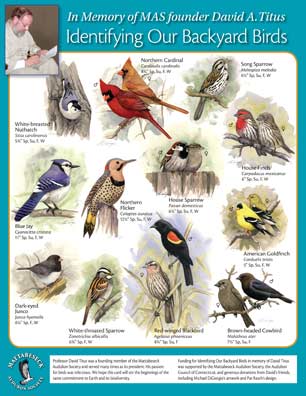 David Titus Memorial
Bird Card—
heavy-duty laminated
plastic—only $3.00!
The David Titus Memorial Bird Card is now available for a $3 donation. We will have them at MAS activities or request by email to mattabeseck@mac.com. Many thanks to Pat Rasch for putting it all together and to wildlife illustrator, Mike DiGiorgio, for his beautiful illustrations, many of which were painted specifically for this bird card. The card is a very inexpensive way to own some of the best bird art you'll ever see. It is extra heavy-duty, all-plastic laminate, printed in full color on both sides. Twenty-four birds are identified by their common name and Latin name, along with the length of the bird and the seasons that they are usually seen in our area. In species that have visual differences between the sexes, both sexes are portrayed.