Our Mission: The Mattabeseck Audubon Society, a chapter of the National Audubon Society, is committed to environmental leadership and education for the benefit of the community and the earth's biodiversity.

deKoven House, 27 Washington Street, Middletown, Connecticut 06457
Christmas Count
The 42nd MAS Annual Salmon River
Christmas Bird Count was held on
Sunday, December 18, 2016
For 117 years, the National Audubon Society has been surveying bird populations at Christmas time. This was the 41st year the Mattabeseck Audubon Society has been part of this effort.
There is no fee for participating. Stats and stories will be available online for this and previous years.
MAS team captains will distribute magnetic signs for our cars (below) and arm-bands for walkers to identify ourselves as Audubon Bird Counters. Our teams and their captains will scour the countryside in our 15-mile diameter circle centered on the Old Comstock Bridge on the Salmon River (see map) to tally our feathered friends, who invariably provide us with some surprises.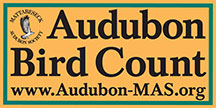 We encourage any and all newcomers, experienced birders or not, to participate in this oldest citizen-led science project in the world. Contact Joe Morin joseph.mor@sbcglobal.net
Any amount of time spent in the field or observing a feeder in the circle is appreciated. Send Joe Morin joseph.mor@sbcglobal.net. Be sure to put CBC in the subject line.

• Please keep bird lists in taxonomical order.
• Download and print Christmas Count Tally Sheet for field participants and captains.
• Please provide details for any rare, strange, or unusual bird—a photo is always good.
• Those of you who have feeders within the circle are urged to use the Backyard Tally Sheet (for people within Count Circle) to report birds that come to your feeder. Feeder watchers not only contribute to the total bird tally; they have almost always tallied birds that those of us in the field have not found.

From 5:00 p.m. on, we will congregate at Farrell's Restaurant on Route 66 in Portland for fellowship and the excitement of the tally. Every year has produced a few spectacular sightings—either for the count day or the count week—and sometimes unusual numbers of species.


Anyone wishing to participate please contact Joe Morin who will be coordinating this year's count.